Hi! It's Mallory again from Chocolate With Grace. I'm back to share another fun fall treat! Caramel popcorn has always been a favorite fall and winter treat of mine. It seemed to make an appearance on cold, rainy nights with a movie or book. Today I'm marrying caramel popcorn to marshmallows and making a ooey, gooey, crunchy, caramely popcorn marshmallow bar! Call me strange, but plain old rice krispie treats have never done much for me. So instead, I'm replacing the bland rice krispies with caramel popcorn for an awesome treat!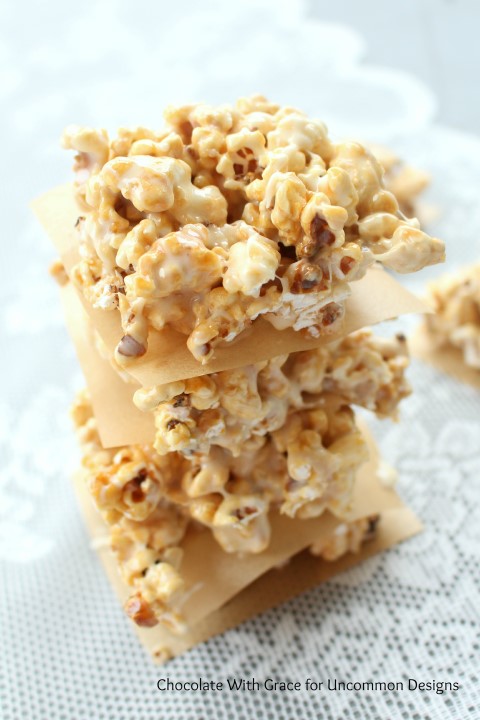 I actually have to give credit for this idea to my husband. I had made some Salted Caramel Popcorn for another blog recipe and had it sitting on the counter along with a box of rice krispies I had other plans for. My husband came home from work, saw them sitting on the counter and asked if I was making a caramel popcorn rice krispie treat. I said "No, but that is a brilliant idea!" And promptly made them. While we are probably not the first people to come up with this great idea, we thought it was pretty ingenious and deserved to be shared with all the other folks who had never tried it!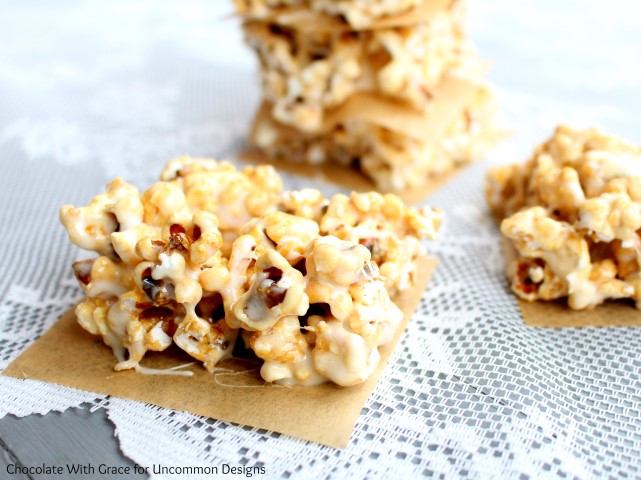 By the way, my recipe for Microwave Salted Caramel Popcorn is on my blog and is super simple (think less than 15 min!) Try it, and then try it again in these caramel popcorn bars! They're a great quick last minute treat for an party or even just an after-school snack.
Caramel Popcorn Marshmallow Treats
8 cups caramel popcorn, slightly crushed
4 T butter
1 – 10 oz package marshmallows (about 4 cups miniature marshmallows)
In a large sauce pan, melt the butter over medium heat. Add the marshmallows and stir until melted. Remove from heat, and add caramel popcorn. Stir until the kernels are well coated. Press into a greased 9 x 13 inch pan. Let cool completed and cut into bars. They are best enjoyed the same day.
Thanks for letting me share with you today! If you have a minute, I love to see you over on my blog. Stop by for some fun and delicious desserts and other recipes! Or follow me on social media! Facebook | Pinterest | Instagram | Twitter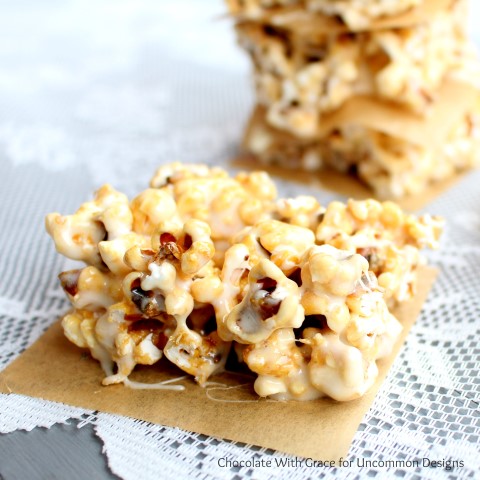 [amd-zlrecipe-recipe:25]
The following two tabs change content below.
Hey y'all! I am Trish and the creative voice behind Uncommon Designs. I adore party planning, holiday celebrations, and all things crafty! I am so excited to share my creative adventures with you!
Latest posts by Trish Flake (see all)