Hey y'all!  I hope that you had a wonderful weekend!  We sure did … nothing like time spent with family.  As I was unpacking my Christmas decorations, I came across one of my favorite creations… our burlap stockings.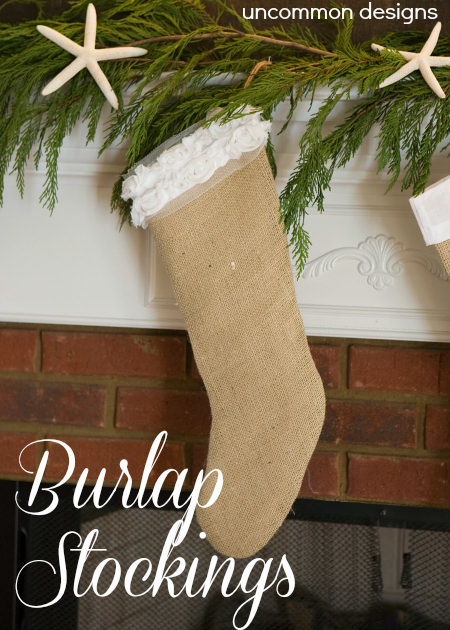 They will be hung again in the same place as last year… on our Joy to the World mantel.  I can't wait to get it all put up this week.  The warm light is just so fun and I love the reminder to find joy each and every day in the little and big things.
I had been wanting to make new stockings for quite some time and I finally bit the bullet last year and got them completed.  I knew I wanted burlap with a very simple detail at the top.  For the girls and I, I simply added a couple of rows of rosette trim.  I love how it was so delicate against the burlap.
For John's stocking, I decided to leave off the fancy frill.  He needed a "manly" stocking.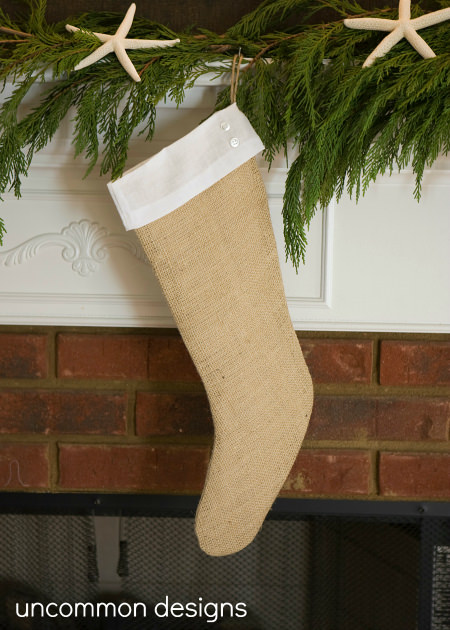 I kept things really simple, by just adding a few buttons to the side.  I didn't even sew them on… just glued them right in place! I know… cheater cheater! It reminds me of a shirt cuff, which is pretty masculine to me… right?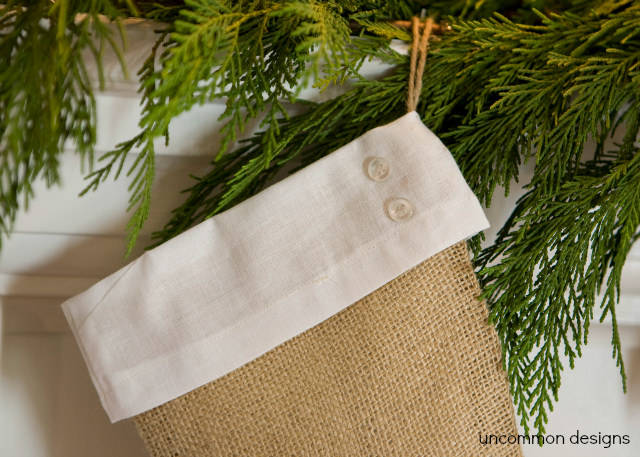 To make the stockings, I traced the shape of a stocking that I already owned and liked.  I cut it out a little larger to allow for a seam allowance and sewed both sides together.  For the lining, I did the same thing, but made it a little longer.  I placed them inside each other and sewed a line around the enter top of the stocking to keep them together.
I have seen several pre-made stockings that you could add some pretty embellishments to, so don't let this part scare you… just buy them!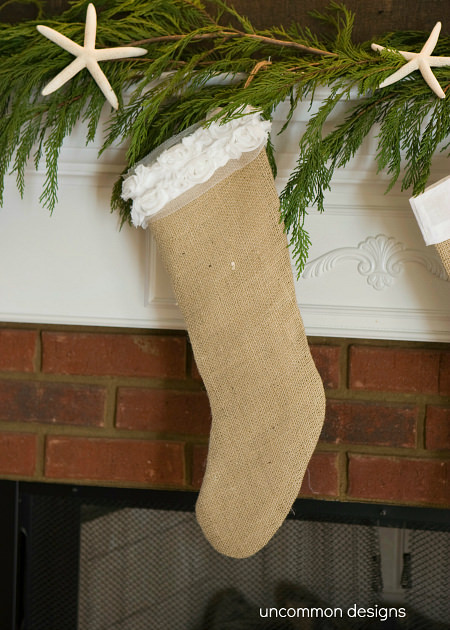 Do you have a set of stockings that you made or just adore?  I am so thankful that I took the time last year to make these… they are one of my most coveted holiday treasures.
*Trish
The following two tabs change content below.
Hey y'all! I am Trish and the creative voice behind Uncommon Designs. I adore party planning, holiday celebrations, and all things crafty! I am so excited to share my creative adventures with you!
Latest posts by Trish Flake (see all)