Hey y'all!
Thanks so much you guys for all of the sweet comments on our Burlap and Bunnies Easter Tablescape.  As promised, I have put together the tutorial on how to make burlap bunny ear napkin rings.  Which also could be known as the Pier 1 knock-off burlap bunny ear napkin rings which I desperately wanted, but could not have them, so I made them burlap bunny ear napkin rings!
 I don't know about you guys, but once I saw those adorable napkin rings, I had to have them.  Apparently everyone else loved them too, because they were completely out of stock everywhere!!  Now every good crafter knows how to solve problems like these… make them!  So here is a tutorial just for you guys…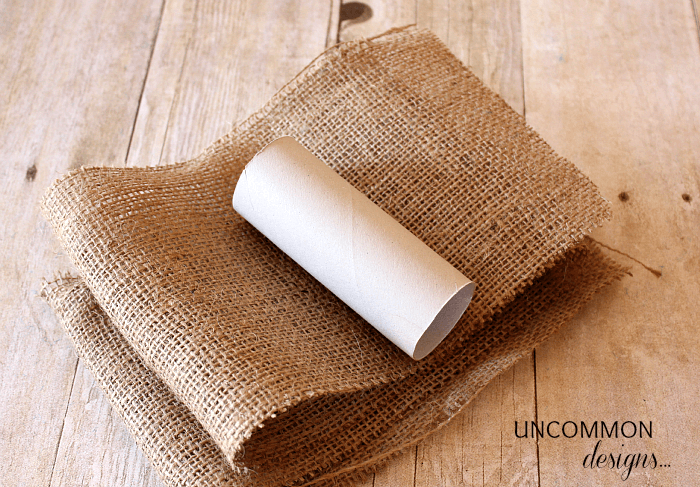 Burlap Bunny Ear Napkin Rings Tutorial
Supplies:
burlap

bunny ear pattern
Heat N Bond Ultra
toilet tissue tube
hot glue gun and hot glue

Step One. The first thing that we need to do is create the actual napkin ring.  I took a piece of burlap about six inches long and 4 inches wide.  I ironed down both sides of the strip of burlap.  Now you will fold it over down the middle and iron it down again.  Cut about an inch and a half wide circle from your toilet paper roll.  Be sure to cut down the side at one point.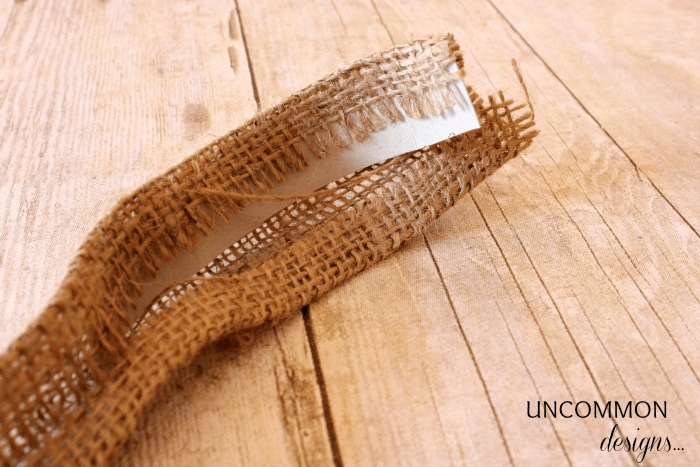 Step Two.  Now you will thread the toiled paper roll through the burlap.  You will thread until the paper roll is completely covered.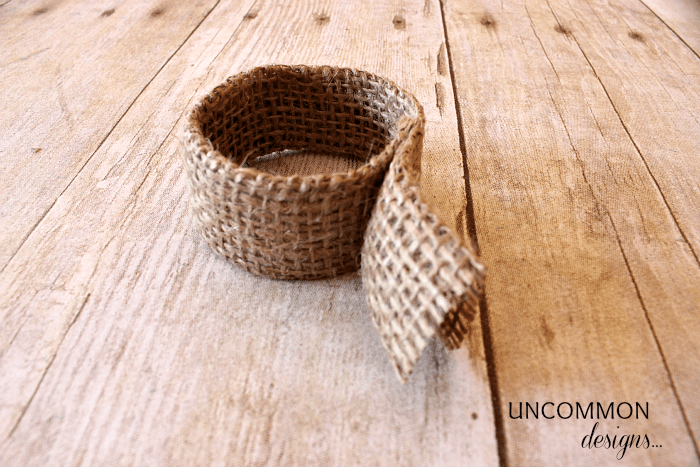 Step Three.  Hot glue down each end and trim away the excess.  You should be left with a fully covered napkin ring at this point.
Step Four.  Now it is time to make some bunny ears!  Take about a square of burlap and iron on a piece of Heat n' Bond to one side.  Once cool, remove the paper backing and iron a piece of burlap on top.  You are basically making a burlap sandwich with the heat n' bond in the middle.
 Step Five.  You will now trace your bunny ear pattern two times and cut out.  You should now have two sturdy ears that won't fray.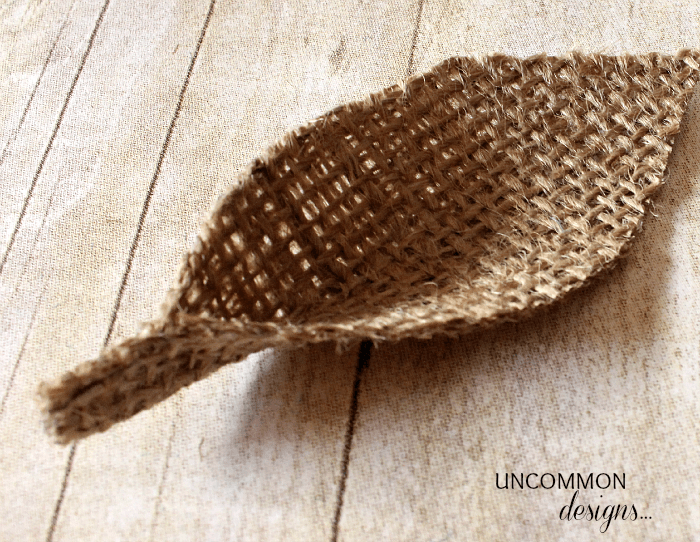 Step Six.  Drop one drop of hot glue at the end of your bunny ear and pinch the sides together.  Hold tight until it dries.  Repeat with the other ear.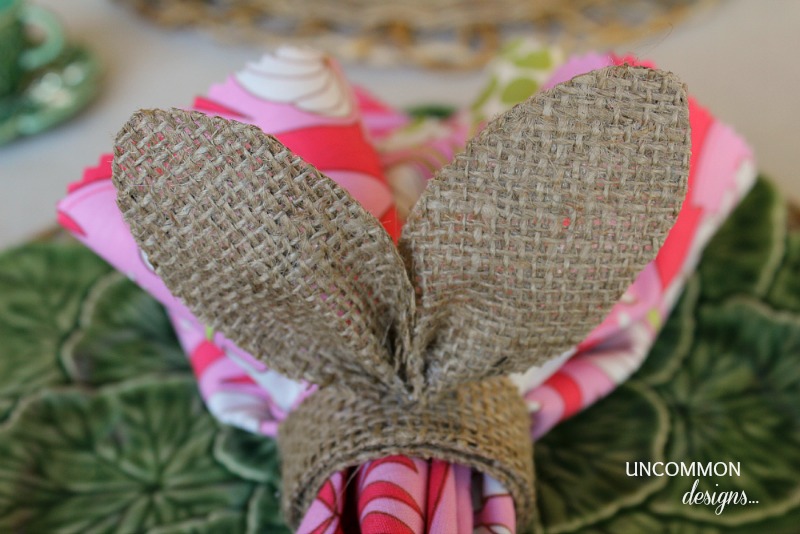 Step Seven.  The final step is to glue both ears together at the bottom and then glue the ends to the top of the napkin ring.  That's all folks!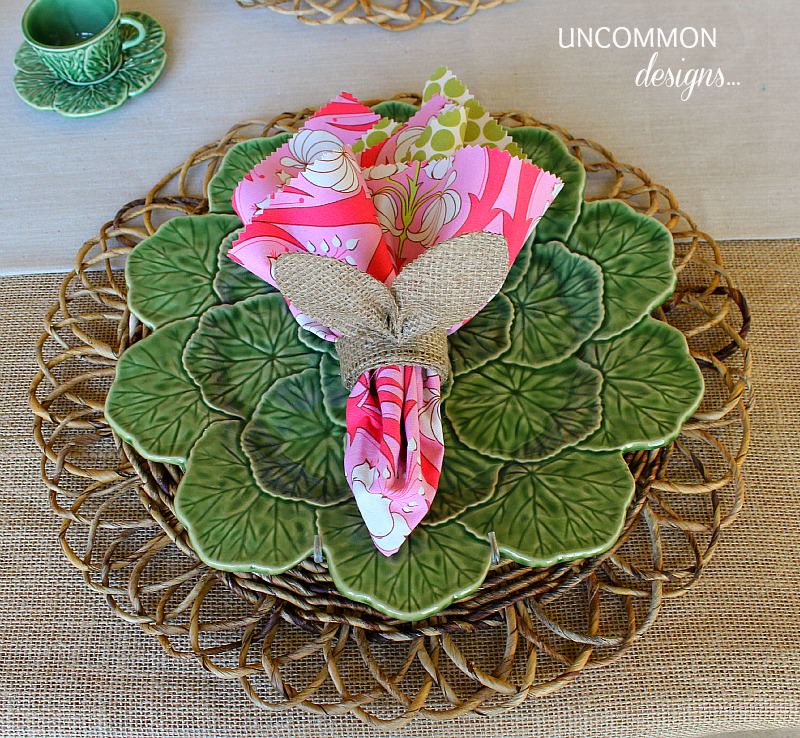 I hope that you enjoy making these sweet bunny ear napkin rings.  They are so easy to make and I had everything on hand to make an entire set!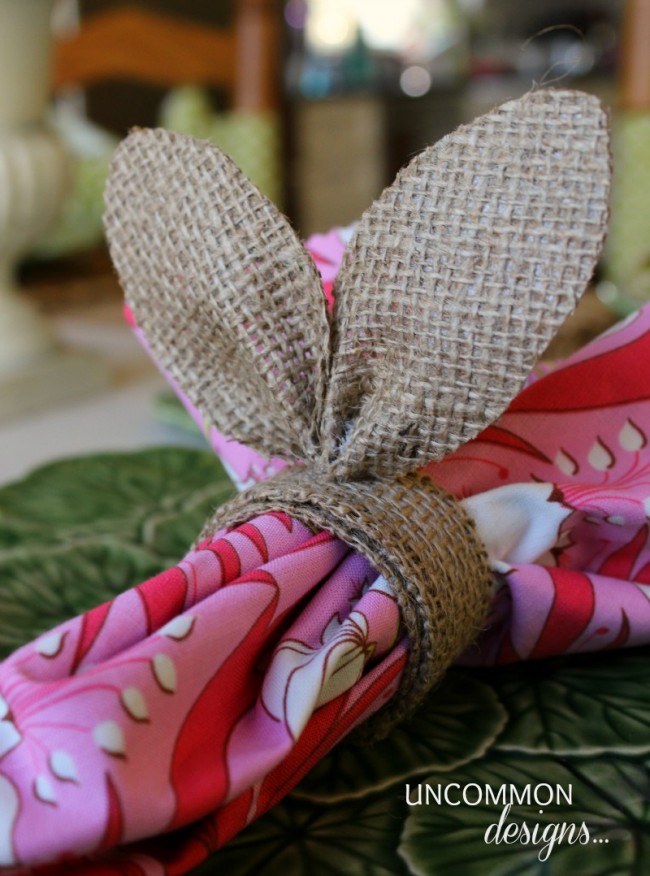 The following two tabs change content below.
Hey y'all! I am Trish and the creative voice behind Uncommon Designs. I adore party planning, holiday celebrations, and all things crafty! I am so excited to share my creative adventures with you!
Latest posts by Trish Flake (see all)