Hi everyone! My name is Angela and I'm excited to be a food contributor here at Uncommon Designs.  At my blog, Handmade in the Heartland, I show recipes (similar to what I'll be showing here), craft and DIY projects, parenting tips, home decor ideas, lots of dessert recipes and the occasional fashion post. I'd love for you to pop over and see my blog.
Today I'm sharing one of my favorite party foods- bacon wrapped jalapeños. If you're thinking this recipe is not for you because you are not a fan of spicy-ness I have to tell you that the cream cheese and bacon tame these treats so that they are just a hint of spice.  I really am a wimp when it comes to heat and I love these guys, like can't stop popping them when they come out of the oven!  They are a great food to have at any party, but especially one with men- ha! I normally get them all prepped the night before the party or morning of, put them in the fridge and then pop them in the oven 30 minutes before the party, this cuts down on my prep time in the few hours before the party begins.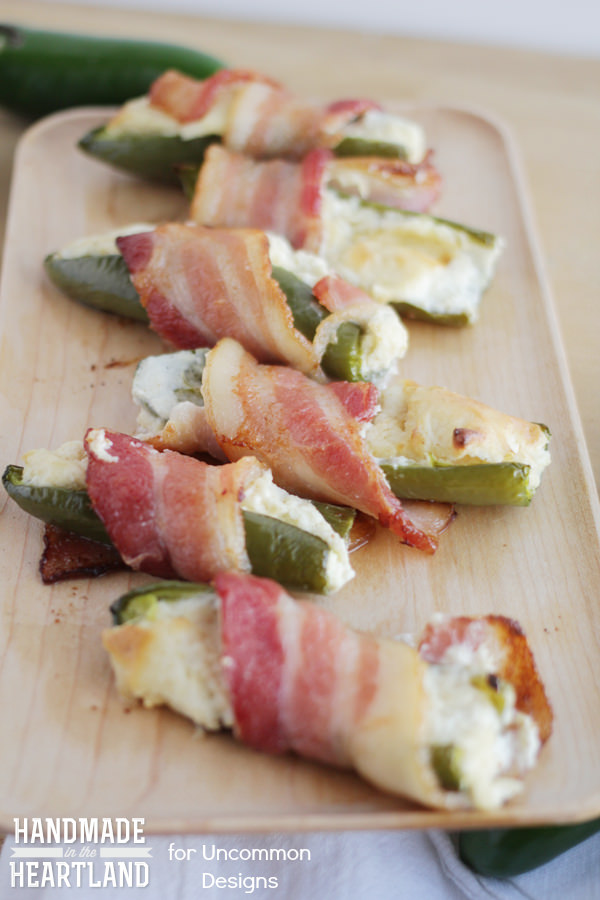 Bacon Wrapped Jalapeños
Makes 20 Large- more if your jalapeños are small
10 Large jalapeños (if they are small i would get about 15)
10 slices of bacon
1 8oz package of cream cheese, softened
1/2 teaspoon garlic salt
1/2 teaspoon onion powder
1/4 teaspoon cumin
Preheat the oven to 375. Mix the spices into your cream cheese, I like to mix mine with my Kitchenaid mixer because it makes it nice and smooth.  Cut your jalapeños in half and remove the seeds. Cut the slices of bacon in half.  Fill each pepper half with cream cheese mixture and then wrap the bacon around.  You can secure the bacon with a toothpick, however the bacon usually does stay without it. Bake for 30 minutes or until the bacon is crispy in spots.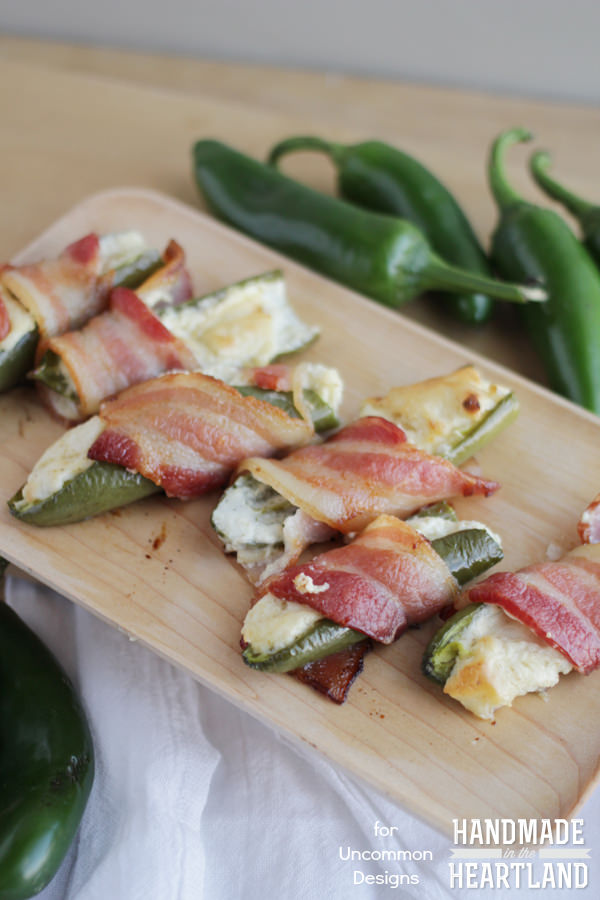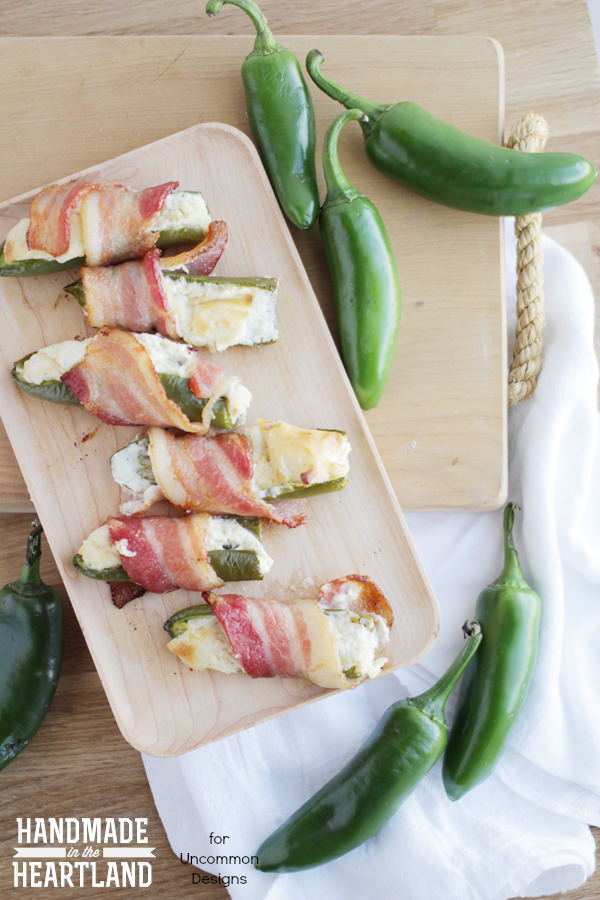 I love good party food, here are a few of my other favorite recipes you can pop over and see at Handmade in the Heartland.
Follow Handmade in the Heartland on Facebook// Twitter// Instagram// Pinterest// Google+//
The following two tabs change content below.
Hey y'all! I am Trish and the creative voice behind Uncommon Designs. I adore party planning, holiday celebrations, and all things crafty! I am so excited to share my creative adventures with you!
Latest posts by Trish Flake (see all)