We are so thrilled to have Kristy from The Life and Times back again today!  She is sharing another adorable kids party… a tree trimming party!
Take it away Kristy…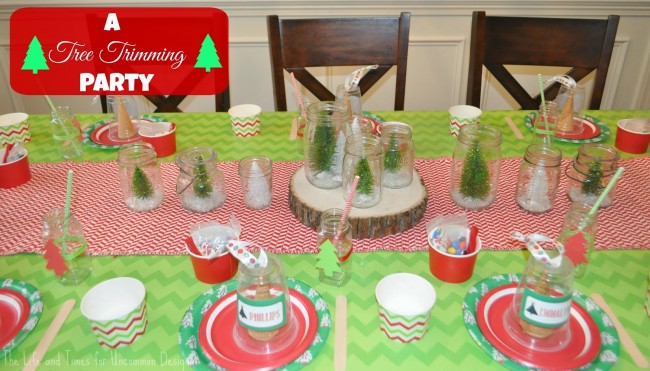 Hey y'all!  It's Kristy from The Life and Times and today I'm sharing with you an adorable and festive Tree Trimming Party I hosted for my son and his sweet friends.  Now this isn't your ordinary tree trimming where everyone gathers and helps you decorate your Christmas tree.  This is kid's style.  
Instead of a real, live tree, we decorated sugar cone trees!
This party was super easy to throw together.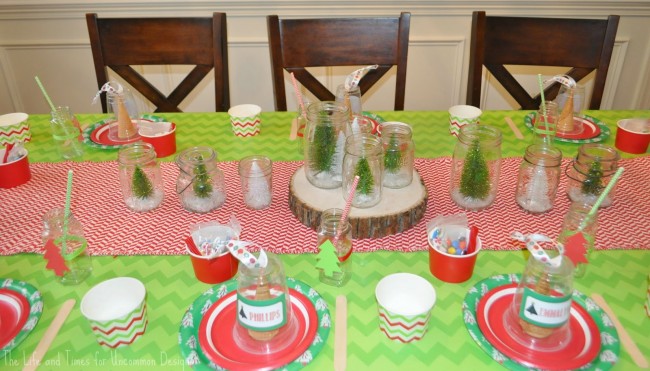 I set out individual place settings for each child that included a candy cup, a milk bottle, cups with green icing, and a sugar cone.
I used small jewelry bags to hold the various candies and placed them all in a treat sized cup.  The sugar cones were placed in an upside down clear cup with a lid.  I attached ribbon to the top and their name.  This cup allowed each child to take their tree home without having to worry about it getting messed up.  It might have been my favorite part of the party!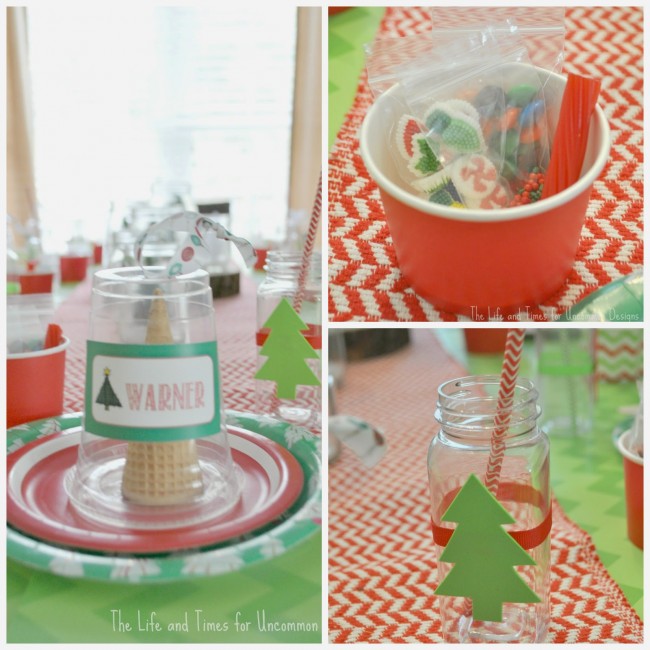 The kids had so much fun decorating their trees and getting messy!
Tip: Use wrapping paper as a tablecloth.  It makes for super simple clean up!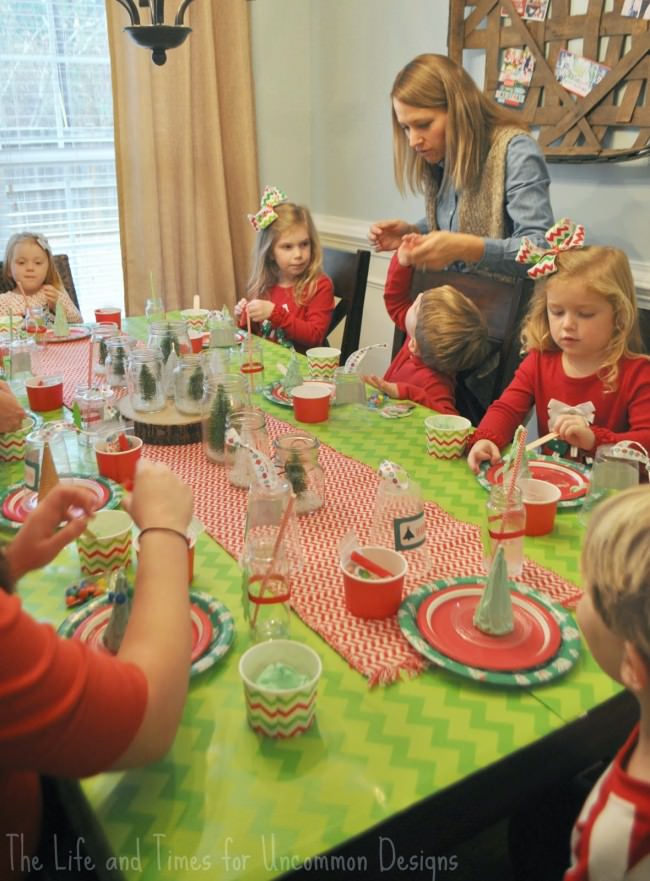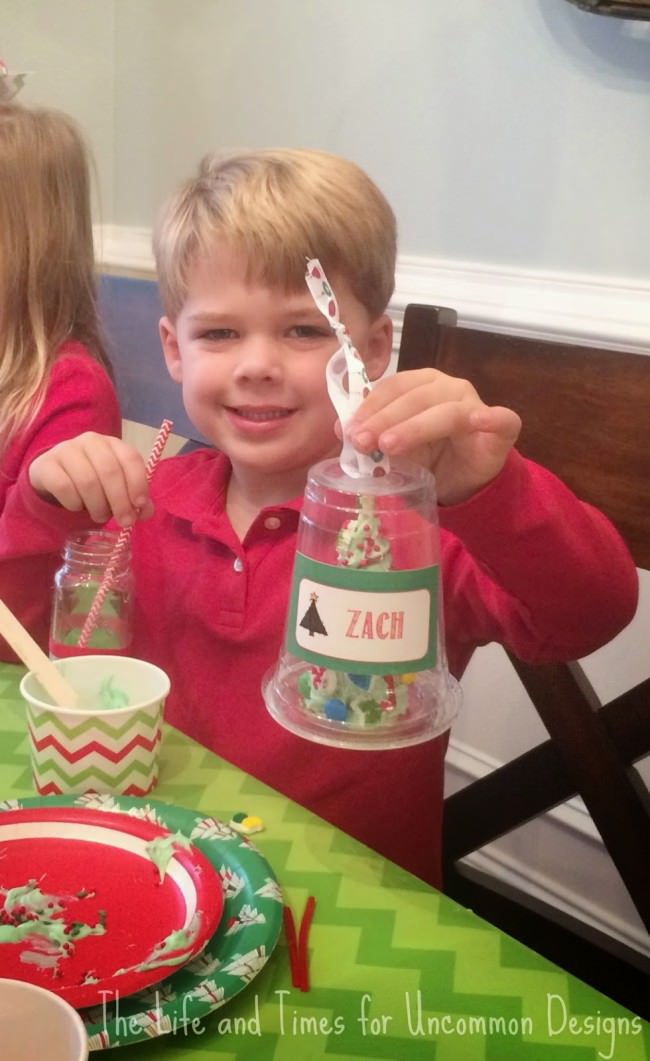 The snacks for the party were kept relatively simple: plain white cupcakes topped with a mini ornament, holiday shaped pretzels, peppermint sticks, and Christmas tree marshmallow pops.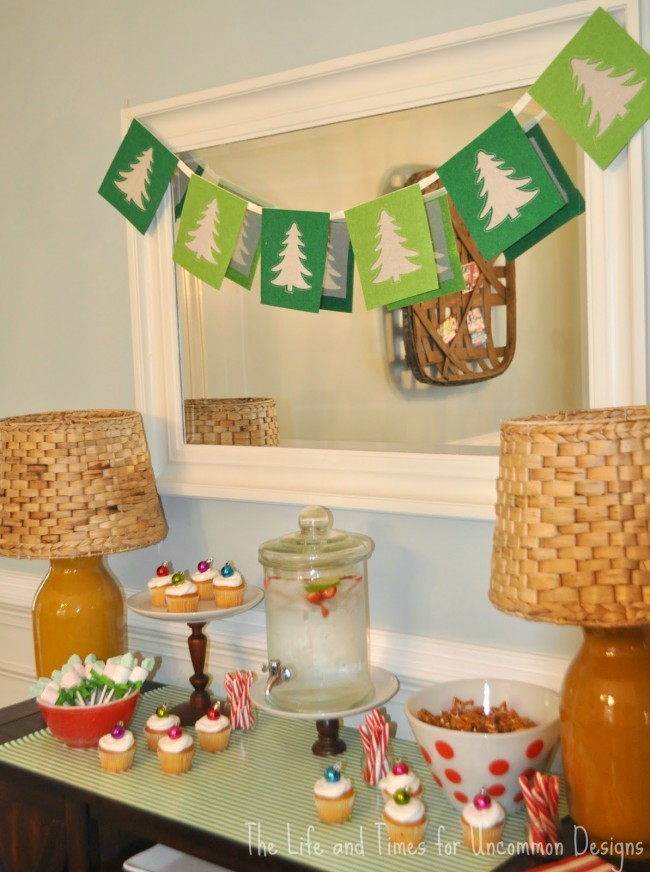 You can't go wrong with simple snacks and disposable tableware for a kids party!
There you have it!  A not so ordinary "tree trimming party" for the kids.  Easy, festive, and sure to get you and the kids in the holiday spirit!
I have more Christmas ideas over on my blog.  I hope you'll follow along!
Happy Holidays!
The following two tabs change content below.
Hey y'all! I am Trish and the creative voice behind Uncommon Designs. I adore party planning, holiday celebrations, and all things crafty! I am so excited to share my creative adventures with you!
Latest posts by Trish Flake (see all)