This post is sponsored by Martha Stewart Living and Endless Summer® Hydrangeas.  All opinions are 100% my own.
Can I tell you a secret? I thought I was having a porch decorating identity crisis. I know… me… the person who writes articles and how-to's on all things home and decorating. Don't worry, I've figured it out all thanks to a couple of hydrangeas.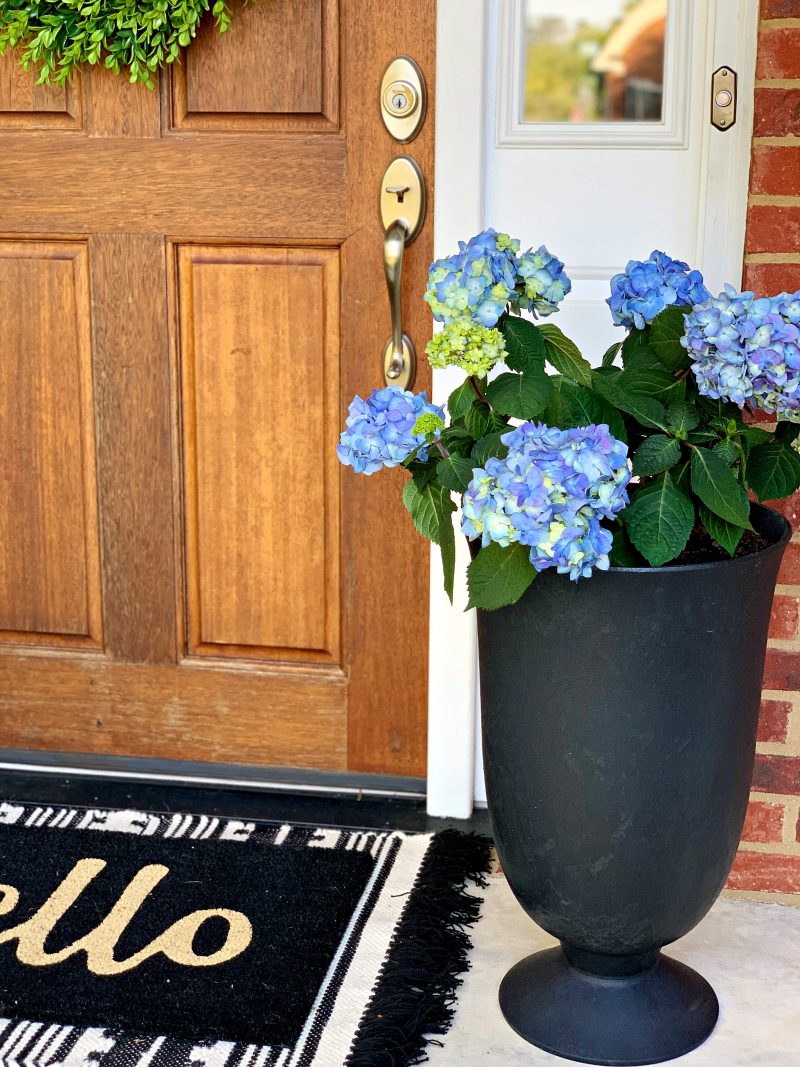 How can two plants change my entire perspective on how I view my home? They helped me see that as my family is growing up, my home needed to mature a little, too.
I cannot even begin to add up the hours spent on this front porch. When the kids were little, every afternoon, it was the meeting spot for other young families in our neighborhood. The kids would play in the surrounding yards and our mom tribe would sit on the steps solving the problems of the world, kissing scraped knees and helping each other feel a little more sane. My porch was always on theme with a holiday wreath on the front door and matching pillows on the bench. When it got warm, I would rush out to buy colorful plants to make our spot a even more cozy and inviting.
As the years passed, our tribe got smaller and time spent on the porch dwindled down to almost nothing. Families moved away, the kids got older and we all became so busy. I walked outside to get the mail a few weeks ago and realized that it was April and I still had my Christmas pillows still on the bench… can you believe it? I was in crisis mode, for sure.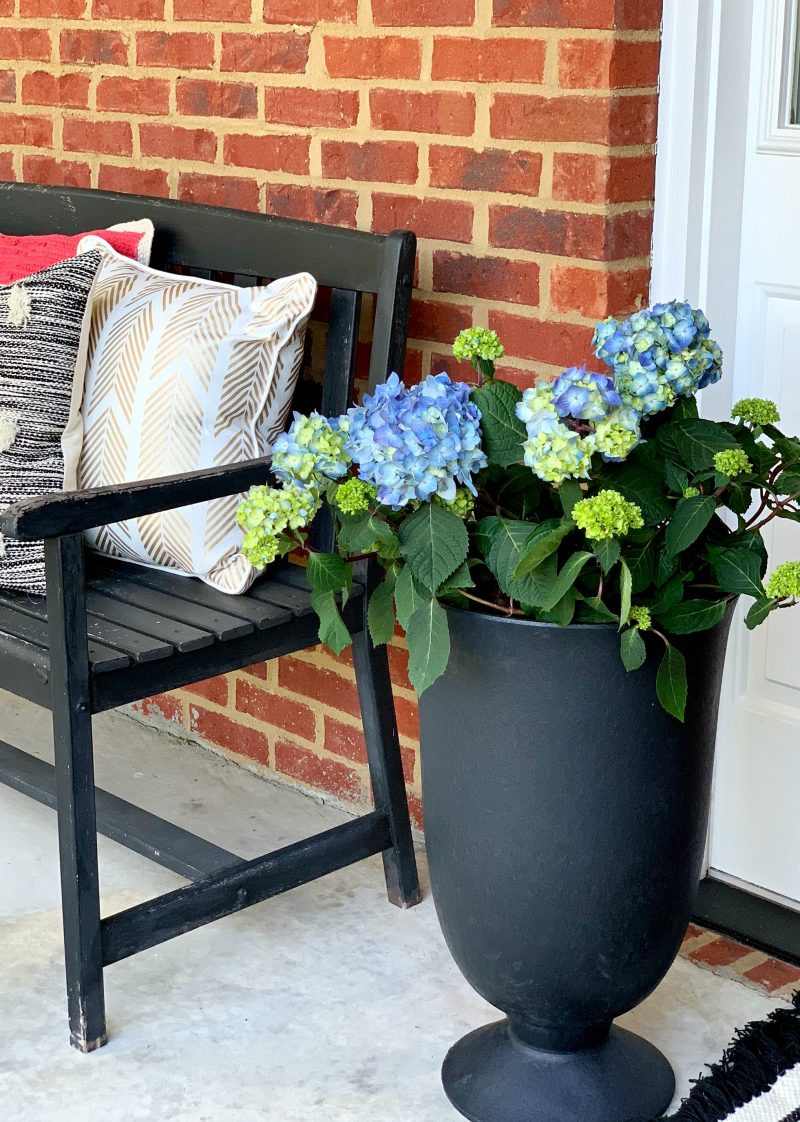 When my friends at Martha Stewart Living asked if I would be interested in showing off a few Endless Summer® Hydrangeas, I immediately said yes. This was just the wake up call that I needed for this worn out old porch of mine. It needed new life, it needed to become welcoming again, it needed to grow up a bit.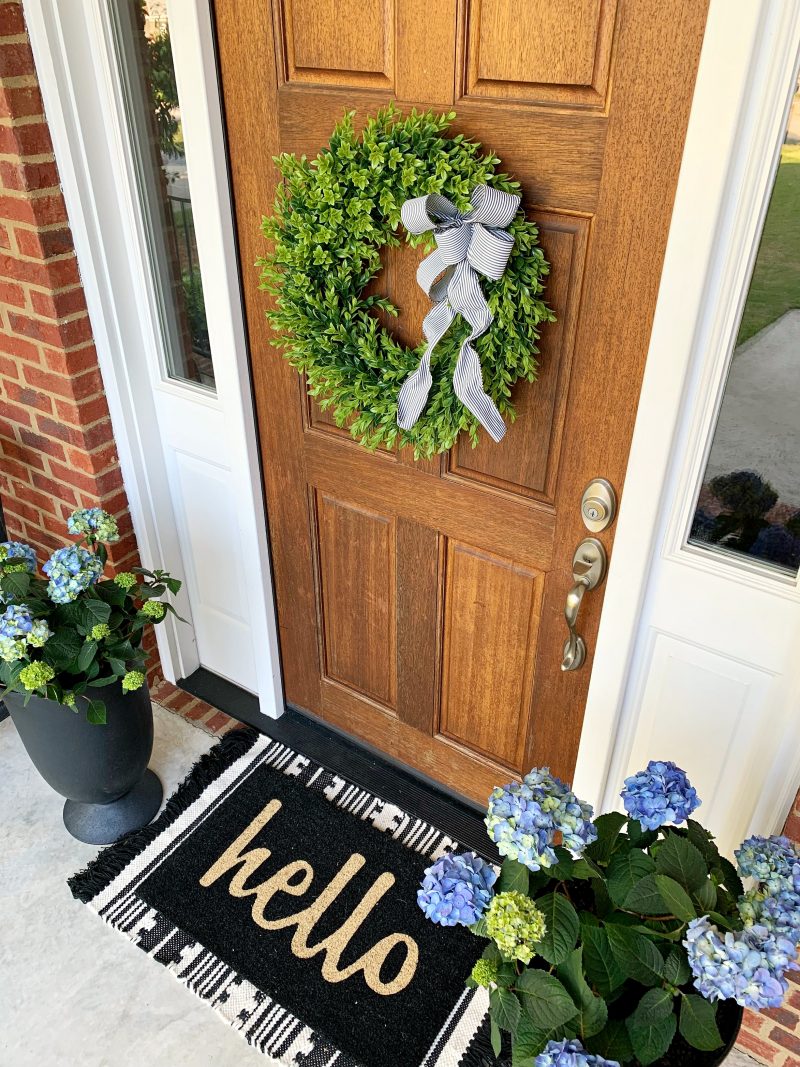 These Endless Summer® Hydrangeas are everything! My front porch gets morning sun and then shade in the afternoon, which is the perfect spot for these stunning plants. I picked up a set of matching planters, potted them with a rich, organic soil and placed them on either side of my front door.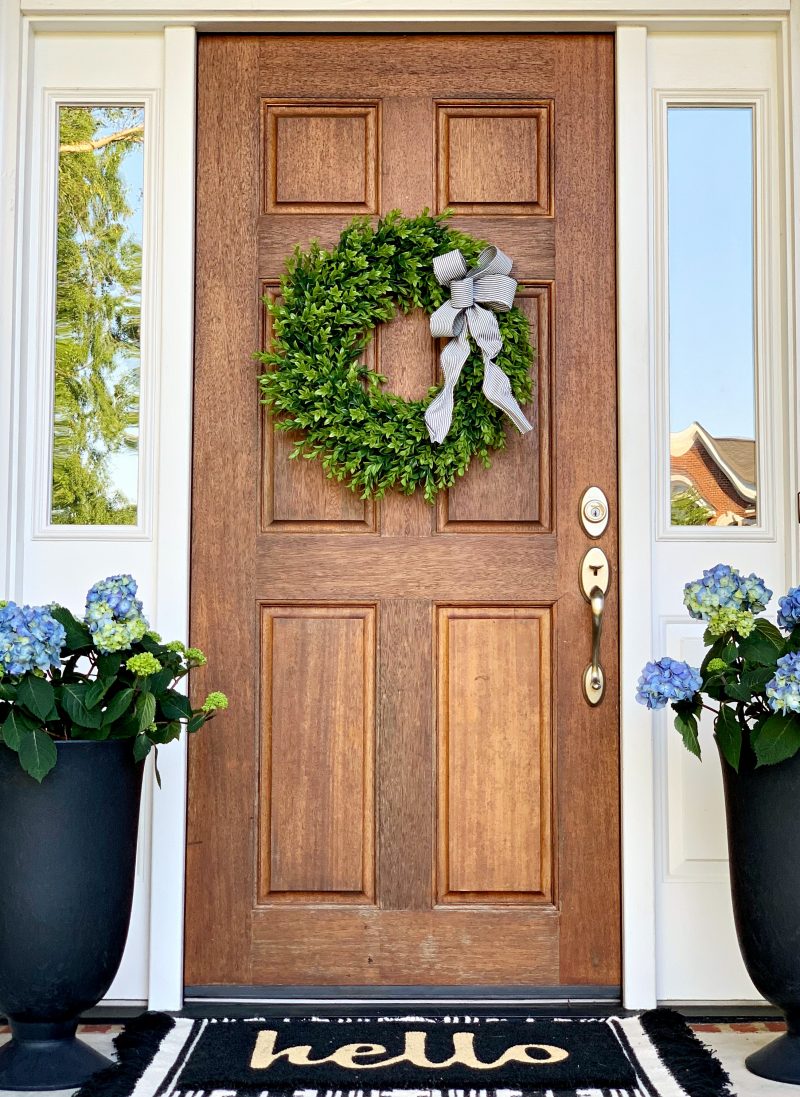 These hydrangeas will bloom and bloom and bloom. I really needed something beautiful like these plants that I would not have to replace any time soon. They add the perfect amount of color and are going to be so easy to care for, too.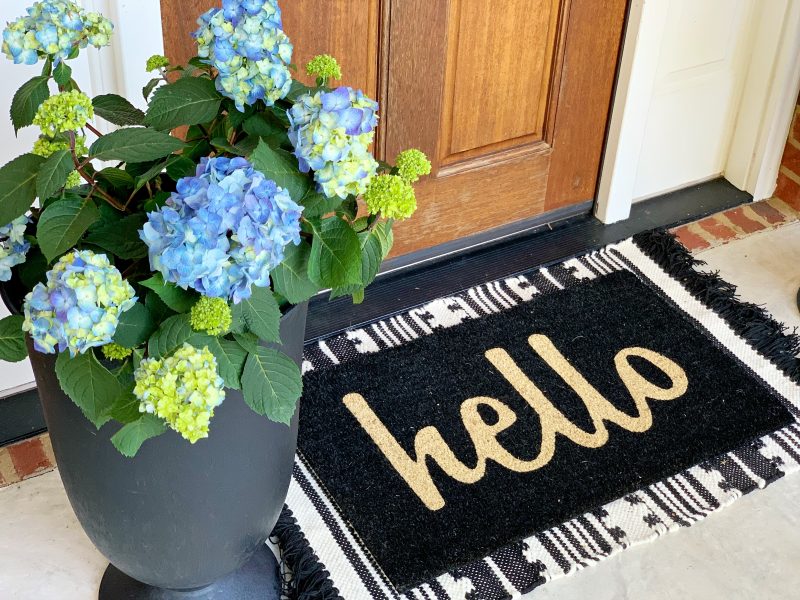 Can we take a moment for this adorable doormat? It added a little fun to the space and dimension when paired with the patterned rug underneath. Y'all, it was the first doormat I've purchased for this space in eleven years. Why on earth did I wait so long?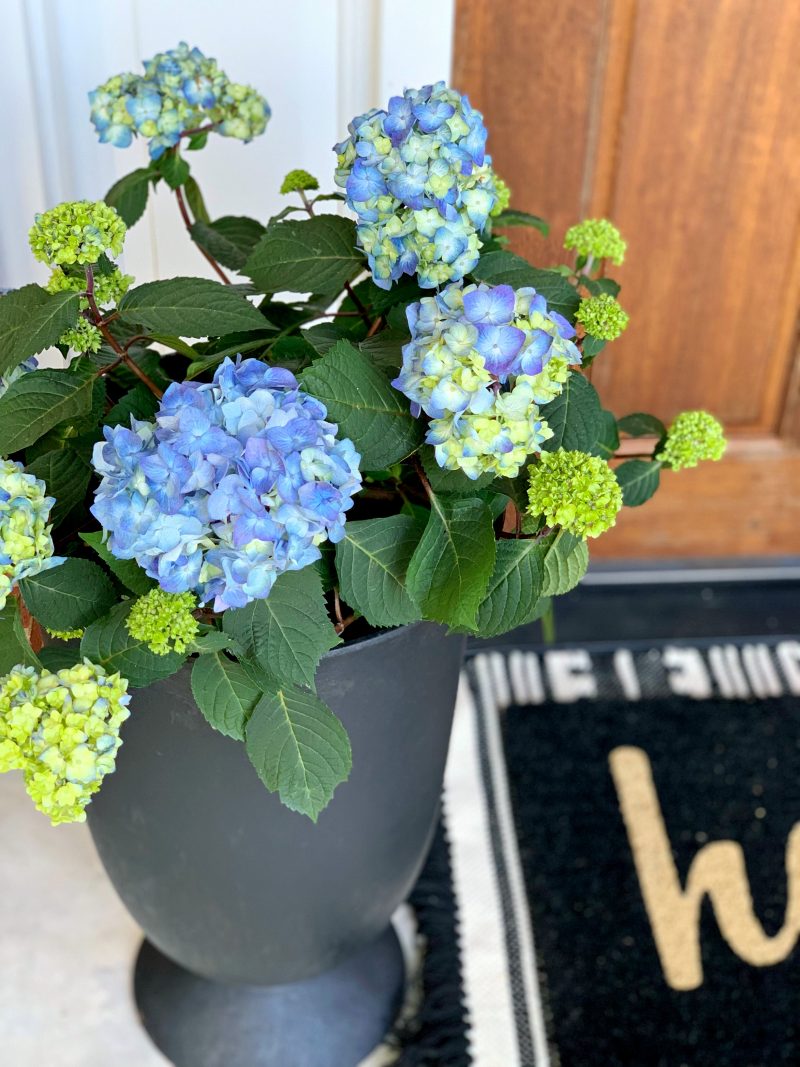 I channeled my old self and added a new wreath and some classic pillows to the bench, as well.  All of these are non-seasonal and can stay out until the holidays roll around again. A perfect solution for our on-the-go family and they are so welcoming.
Last night, my oldest daughter and I sat on our front steps solving the problems on the world and helping each other feel a little more sane. It wasn't the same as my old mom tribe, who I will cherish forever, but those steps still hold the same power. This porch is all about connection and these hydrangeas helped remind me of how important that connection is and how it changes as we grow.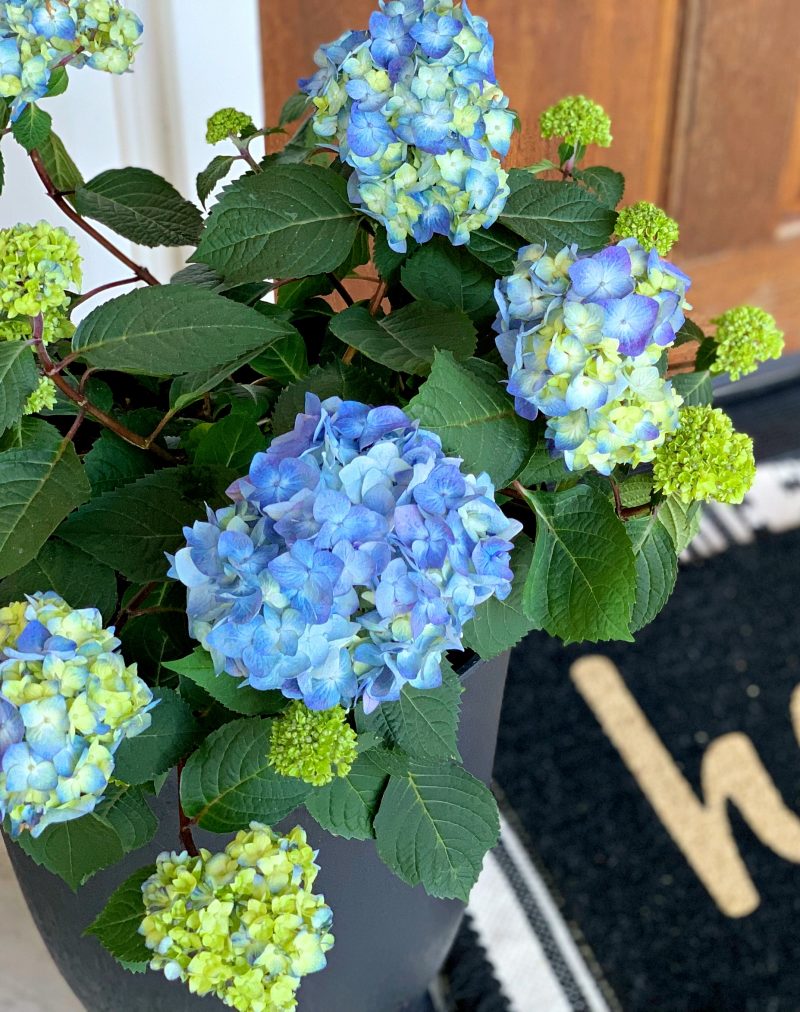 I look forward to enjoying this pretty and grown up front porch for many years to come.
The following two tabs change content below.
Hey y'all! I am Trish and the creative voice behind Uncommon Designs. I adore party planning, holiday celebrations, and all things crafty! I am so excited to share my creative adventures with you!
Latest posts by Trish Flake (see all)