This is my absolute favorite time of year.  The warmer temperatures outside have everyone out of their winter slumber and ready to get social.  Today, we are going to be sharing our 7 Secrets to Backyard Entertaining to get you prepared!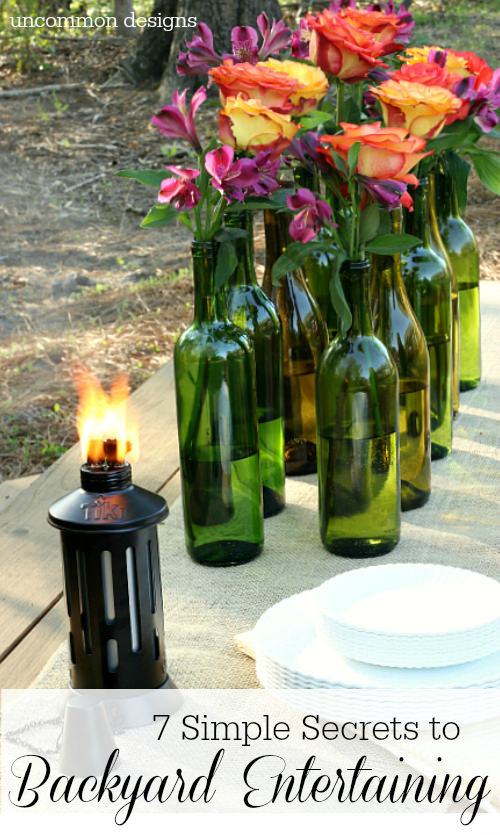 Having friends and family over doesn't have to be difficult.  With the summer months ahead, you can entertain in style right in your own backyard and we are going to show you how in a few simple steps.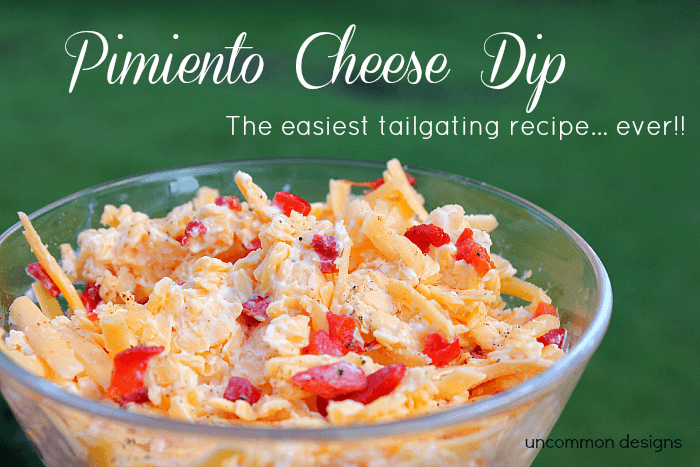 Step One.  Decide on an easy menu.  If you are a gourmet cook and love to shower your friends with an amazing meal, that is wonderful!  For the rest of us, I suggest keeping things simple so you won't be stuck in the kitchen while your party guests are in the backyard.  Grilling is such a delicious option this time of year.  Simple hamburgers and hot dogs usually are a crowd pleaser and you can prepare everything ahead of time, but the grilling of the meat.  I also love setting out a pimiento cheese dip for my guests to snack on while the food cooks.  It is a great make-ahead appetizer and tastes delicious on hamburgers, too!
Step two.  Create a beautiful tablescape.  You don't have to decorate every square inch of your backyard, for it to be stunning for a party.  Create a focal point around your table.  Use a simple burlap runner that will match everything and add fresh flowers from the supermarket.  Having a set of white plates to use will come in handy for any occassion and you can use a fun patterned napkin.  I love to include a little lighting on my table like these tabletop TIKI® Brand's OFF!TM/Bighter® Torches.  It also helps to keep those pesky mosquitoes away from the table!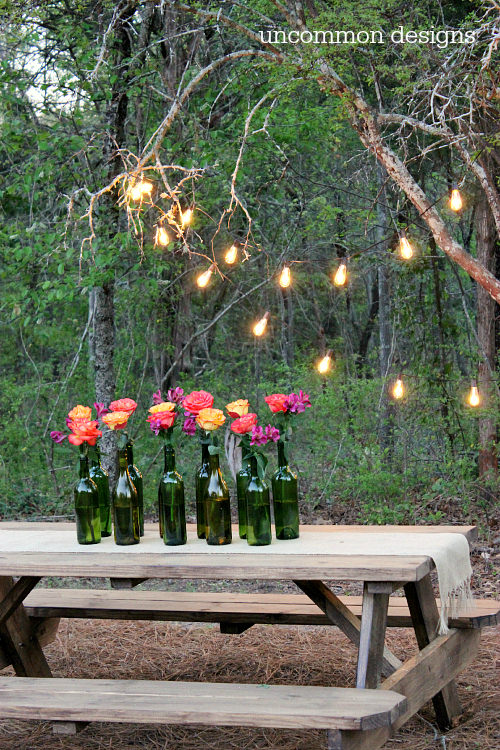 Step Three.  Add a little torchlight to your table, hang outdoor string lights in a few trees, or stake  a few torches to the perimeter of your backyard.  A little added lighting will keep your party going long after the sun goes down.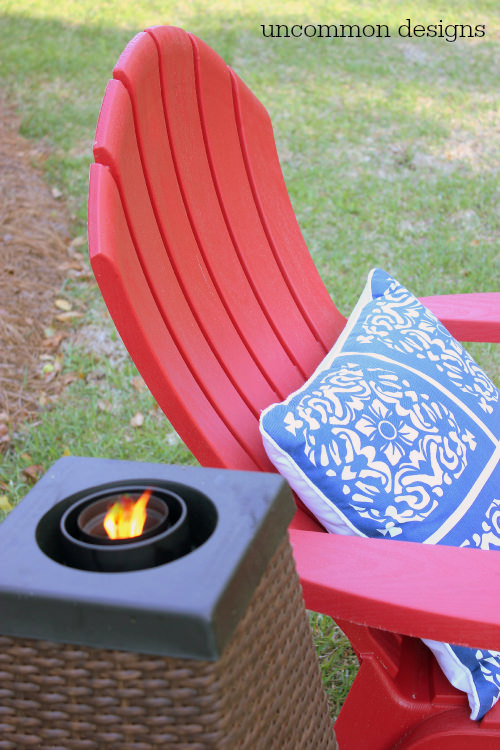 Step Four.  Have comfortable seating for your party guests.  It doesn't have to be fancy, but a few outdoor chairs with a festive pillow will look amazing and your guests can have a place to rest and chat.  Be sure to mosquito repellency control around your seating.  I suggest using TIKI Brand OFF!®/BiteFighter® Citronella & Cedar Torch Fuel in your torches. I even use it in my TIKI Fire Sculpture. It really does its job and your party guests won't include pesky mosquitoes.  Just fill the torches ahead of time and you will be good to go for your party.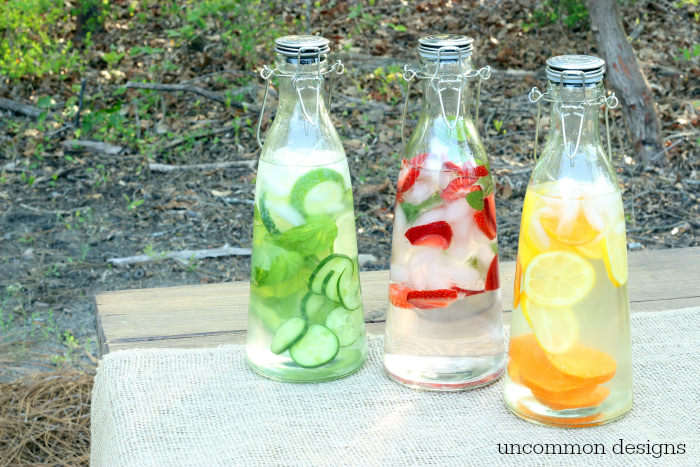 Step Five.  Prepare your drinks ahead of time.  Purchase all of your canned and bottled drinks the day before the party and keep them refrigerated until party time.  Fill up your coolers generously with ice, so you won't have to worry about them during the party.  I also love to serve naturally flavored water with a variety of fruits.  Not only will it keep your party guests hydrated, it tastes delicious and looks beautiful.  You can't beat that winning combination.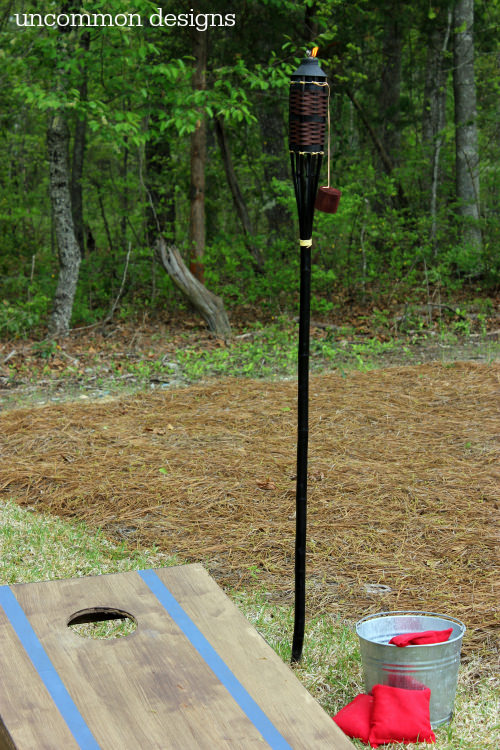 Step Six.  Include some classic party games to keep your guests entertained. We love to play a good game of cornhole with our friends and it is perfect for the backyard.  You can even set up a volleyball or badminton net, depending on how large your yard is.  I like to keep bubbles and hula hoops on hand for the little guests that come to our party, too.
Step Seven.  Include music in your party.  I think that music really brings people together and is such an important part of planning any get-together.  Decide upon a long playlist ahead of time and set it on repeat.  You won't have to change out your songs at all and you can include some fun summertime favorites!
I hope you have enjoyed these tips and will be able to use them to throw an amazing backyard party this year.  Have a wonderful time!
Find all the TIKI Brand products mentioned in this post here.
OFF!® is a registered trademark of S.C. Johnson & Son, Inc. used under license. 
The following two tabs change content below.
Hey y'all! I am Trish and the creative voice behind Uncommon Designs. I adore party planning, holiday celebrations, and all things crafty! I am so excited to share my creative adventures with you!
Latest posts by Trish Flake (see all)