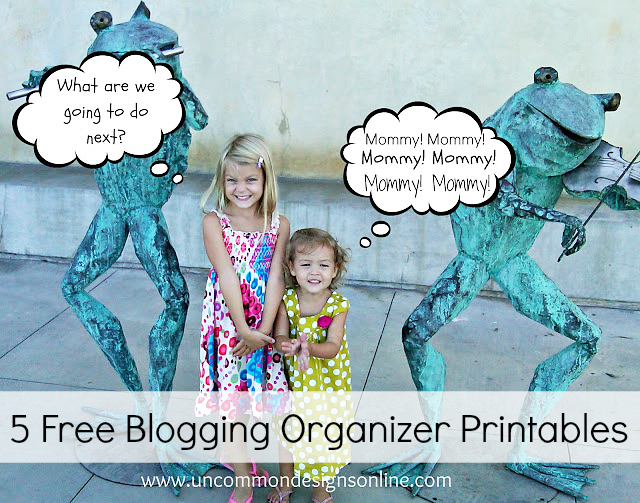 Ok…. I'm being totally honest here.  I have been telling my kids that we are going to be on a schedule this Summer and are going to get lots of stuff done and also have fun, Fun, FUN!  You know who really needs to get her little tush in gear?  Me! 
 I need a Blogging Organizer like nobody's business!  Thankfully, you ladies have not left me in a lurch!  There are some amazing and free, Blogging Organizer Printables out there! If I plan on keeping things sane around my house and blog… I am going to need them all!  
 Here are a few that I think are just fabulous…
All in One Blog Planner:
Becky from
Infarrantly Creative
has created the ultimate in Blog Planning Organizers. This one looks to have everything a girl would need and she definitely knows how to get things done! Love it!
Sponsors:
This printable I have been using for a few weeks and it has helped me tremendously to organize all of our sponsor information! 
Living on Sweet Tea
 has created this free Sponsors Planner and is both functional and pretty.  We all need both, right?!
Blog Conference Planner:
Bonnie and I are headed to the Haven Conference in a few weeks, so this Blog Conference printable from Amy at
Cajun Joie De Vivre
is going to come in very handy. You can even edit the document and have a nice typed out list. That is awesome… I'm just sayin'!
Affiliates:
Keep Up with all of your Affiliate Information with this handy Blog Affiliate Printable from
Our Peaceful Mom
. I love that there are spots for user id and passwords. I write them down all the time so I don't forget, but then I forget where I wrote them down… you know the drill!
Giveaways:
Our Thrifty Ideas
 created this Giveaway Printable, so now you have all of the information pertinent to every giveaway on one page!  Great idea! 
I hope some of these goodies are helpful!
*Trish
The following two tabs change content below.
Hey y'all! I am Trish and the creative voice behind Uncommon Designs. I adore party planning, holiday celebrations, and all things crafty! I am so excited to share my creative adventures with you!
Latest posts by Trish Flake (see all)