Did you want to start an advent tradition with your family with year, but didn't get started?  It isn't too late to make a 12 Days of Christmas Count Down advent Calendar!
Today, we are going to show you how to make one! There are tons of advent calendar ideas out there, but this one won't break the bank, is extremely versatile, and you can make it with basic crafting supplies and a few boxes.
 Let's get started…
12 Days of Christmas Count Down Advent Calendar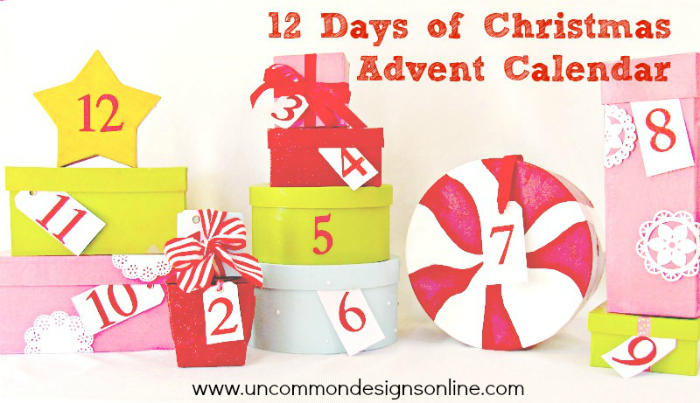 Here are the supplies needed to make your own 12 Days of Christmas Advent Calendar:
Step One.I used paper mache boxes because they are super sturdy, but they do use a load of paint to cover them.  So, I recommend painting them with a coat of Mod Podge first.  Then paint your boxes in whatever color you like!  I painted each box with a couple of coats and then followed up again with another coat of Mod Podge.  My kids even stepped in to help out with some of the painting!
Step Two.  Embellish your boxes to your heart's content!  I used washi tape, ribbons, doilies, little pearls, and patterns like the peppermint with paint.  Be creative and have a good time!
Now is also the time to add your numbers.  I did a few on gift tags and a few just right on top of the boxes.
I hope that you enjoy making the 12 Days of Christmas Advent, I am so excited about being able to use mine in the upcoming weeks.
Have fun with it!
The following two tabs change content below.
Hey y'all! I am Trish and the creative voice behind Uncommon Designs. I adore party planning, holiday celebrations, and all things crafty! I am so excited to share my creative adventures with you!
Latest posts by Trish Flake (see all)