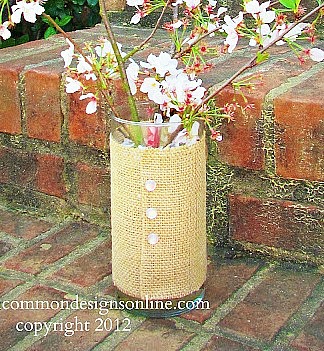 Does anyone get a little overwhelmed this time of year?  Between Teacher Appreciation Week, Mother's Day, sports try-outs, end of the year programs and everything else…. I can get a little frazzled! 
 Today I am going to share with you how to make this beautiful burlap covered vase. It is quick, super-easy, and a very inexpensive gift idea! Just perfect for the insanely busy time of year!
The best part… you can make it for under $3.  You heard that right… $3
Burlap Covered Vase Tutorial
Supplies:
Glass Hurricane (I got mine from Dollar Tree)
Burlap (from Jo-Ann Fabrics)
Step One. Cut your burlap into a rectangle that is long enough to wrap around your hurricane.  I left a little over an inch at the top and bottom of the glass. 
Step Two.  Iron down about an inch of your burlap to make a clean line.  Then, you will hot glue the end of the burlap that you did not iron onto the glass.  Press lightly to make sure it stays adhered while it dries. 
Step Three.  Wrap the burlap around the glass and glue down the ironed-side of the burlap making sure that the layers at the top and the bottom are matching. If you have any stray strands go ahead and trim them. 
Step Four.  Glue your buttons on with the hot glue.  I would press each one down until the glue had tried before moving on to the next button.  That's all folks!
Now that is quite a statement for the price! What a great little gift for someone special!
Trish
The following two tabs change content below.
Hey y'all! I am Trish and the creative voice behind Uncommon Designs. I adore party planning, holiday celebrations, and all things crafty! I am so excited to share my creative adventures with you!
Latest posts by Trish Flake (see all)