Hello again Uncommon Designs fans! It's Jen again from Pink When. Today I am going to share with you one of my all time favorite, and easiest, grilling recipes. Not only is this easy, but if you do it JUST RIGHT, it will turn out to be The Best Grilled Corn recipe you will EVER taste!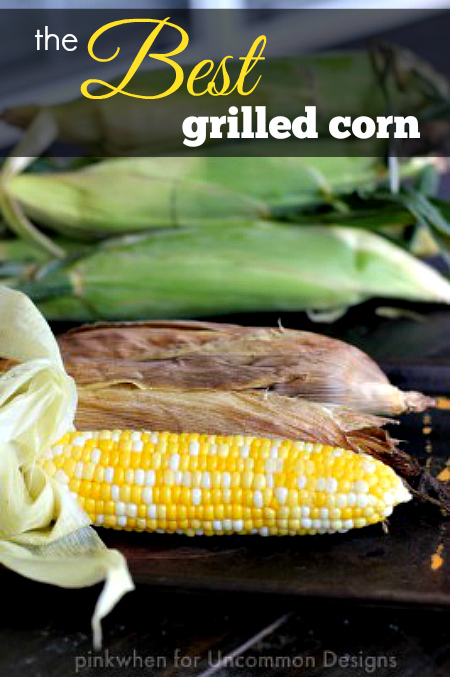 Have you ever grilled corn on the cob, or do you usually boil it? I think I ask this of all of my family and friends, and they always tend to boil it. I like to grill it, and when you try this recipe, you will, too. It's one of our signature side dishes we serve when we are having friends and family over for a cookout.
Grilled Corn Recipe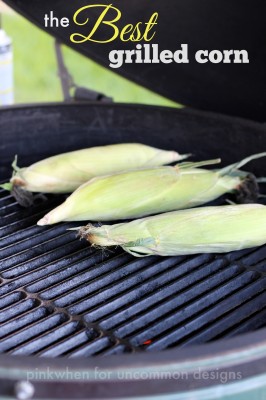 One of my favorite things about this recipe is the list of ingredients you will need. Besides the corn, you need NOTHING ELSE. Yes, amazing! Just trust me on this one. There are a couple of carefully prepared steps you will need to do before you grill the corn.
The first thing you will want to do is clean your grill really well of any leftover soot or ash from previous usage. Then you will want to add fresh LUMP charcoal to the grill. It's not like regular briquette charcoal, it's better. The difference is it lights faster, it's a purer form of charcoal so it burns better, and because it's more responsive to oxygen – it's easier to control the temperature by adjusting the vents on your grill. This is the most important step on the process, so don't skimp and use regular briquettes.
Once you have lit your grill you need to monitor the temperature and get it up to 400 degrees. The trick is keeping the grill at 400 degrees. Make sure you are using a temperature gauge and adjusting your vents if needed.
After the grill is at 400 degrees, place the un-shucked corn onto the grill and shut the lid. Every 10 minutes you will need to open the grill and turn the corn. You will do this a few times, and you will grill the corn for a total of 40 minutes.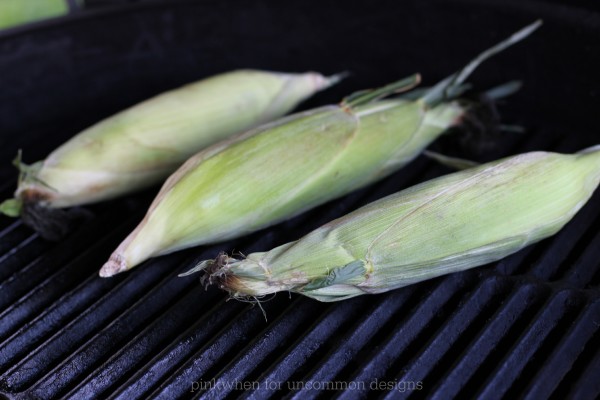 After 40 minutes, remove the corn.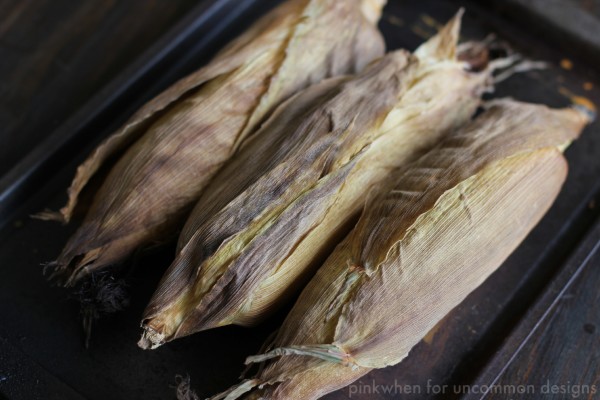 Remove the shuck, and smother in butter and salt and serve while still warm. You will LOVE this simple but delicious recipe.
Rotating the corn often insures that it is fully cooked and perfect! It truly is the BEST grilled corn recipe you will ever have.
[amd-zlrecipe-recipe:8]

Stop  by and see Jennifer at her blog, Pink When… where she is always up to something crafty or delicious!  
The following two tabs change content below.
Hey y'all! I am Trish and the creative voice behind Uncommon Designs. I adore party planning, holiday celebrations, and all things crafty! I am so excited to share my creative adventures with you!
Latest posts by Trish Flake (see all)