It is that time of the year again…garden season! It is filled with a burst of colors and textures. Today I am going to share with you 5 Tips to Plan and Nurture Your Garden this year. The time you spend doing this will payoff for you in the enjoyment you have from your garden and plants all season long. I even have a new product that will make your garden success even easier… the Miracle-Gro® Liquafeed® Universal Feeder. It will help your plants thrive all season.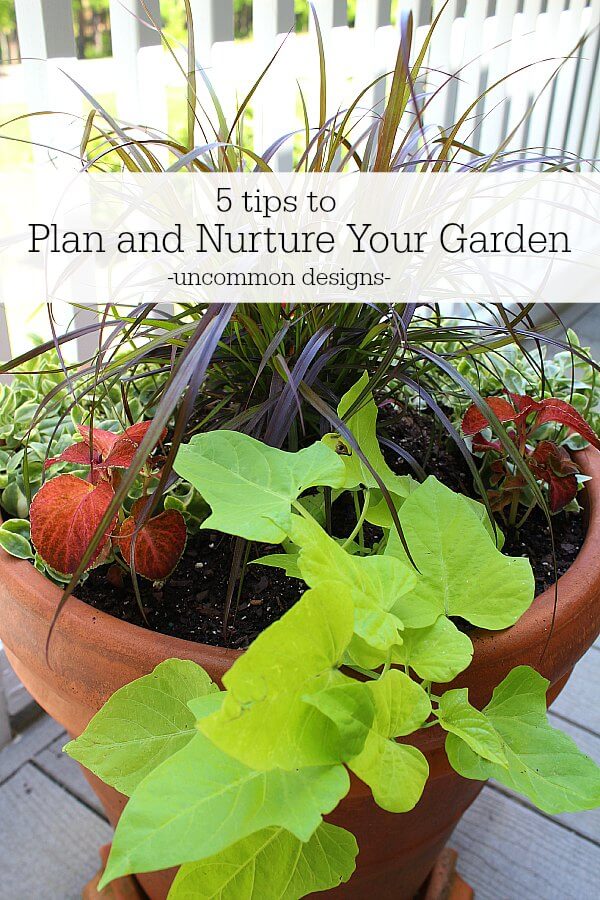 So let me share my tips with you for creating your own beautiful gardens and plants this season.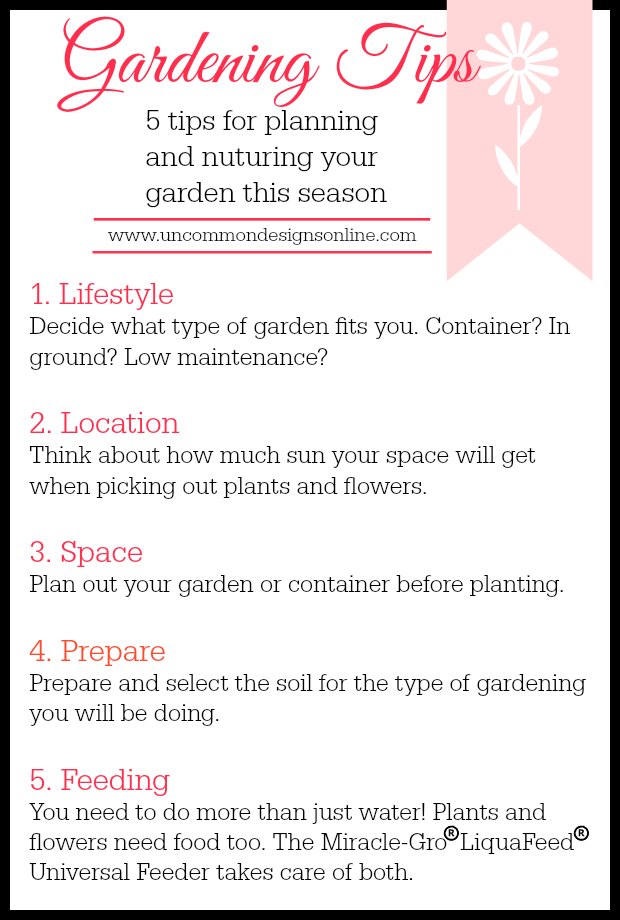 1. Lifestyle
The first thing to consider is your lifestyle. Do you want to have container gardens or in ground plants? How much time do you have to maintain the garden and pots? The new Miracle-Gro® Liquafeed® Universal Feeder feeds and waters together to save you precious time.  Decide these things to get started in the right direction. I love container gardens because they are smaller and fit my busy life better.  There are so many beautiful choices of flowers and plants.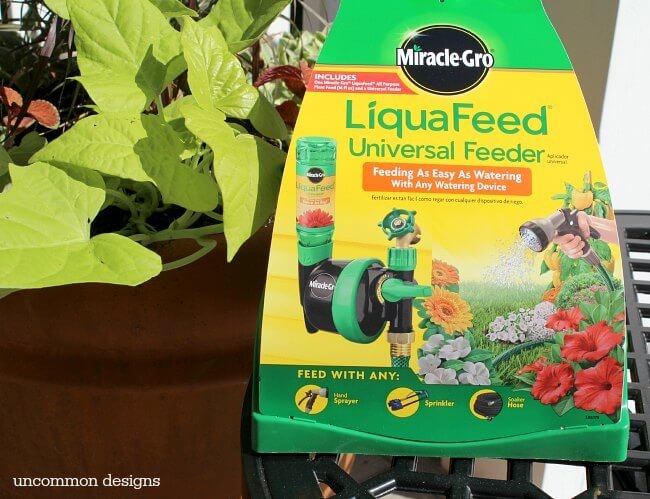 2. Location
Where will your garden be? Do you get shade or sun, or both? Afternoon sun or morning, or all day? What is the temperature like where you live? These questions will guide you in picking out the correct plants and flowers that will be best for your garden.
 3. Space
Decide how you want your garden to look before buying flowers and plants. Plan it all out so that you know how many your space can handle and how many to purchase. This helps to give you a visual of the overall look you want and will save you time at your garden center.
4. Prepare
Before planting, make sure you have properly prepared the soil and chosen the one that is best for your types of plants and flowers. In containers, I use the Miracle-Gro® Potting Mix for great results.
5. Feeding
Yep! Feeding! You may have always watered but have you fed them? Plants and flowers need more than just water to thrive, they need to eat too. The Miracle-Gro® Liquafeed® Universal Feeder makes feeding as easy as watering. You can turn any hose connection into a feeder at the flip of a switch.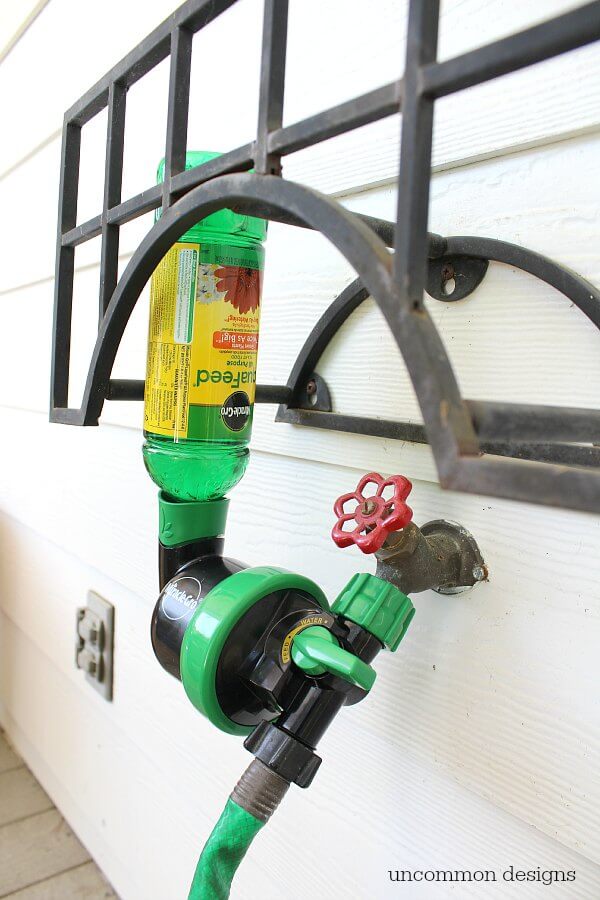 Now you can easily water and feed at the same time. Help plants thrive all season long and grow bigger and more beautiful flowers. The universal feeder works for all 3 varieties of Liquafeed® Plant Food: All Purpose, Bloom Booster Flower Food, and Tomato,Fruit, and Vegetable Plant Food.  If it waters, you can feed with it. Whether it is a soaker hose, sprinkler, watering wand, or hand sprayer , you can feed and water your plants and flowers.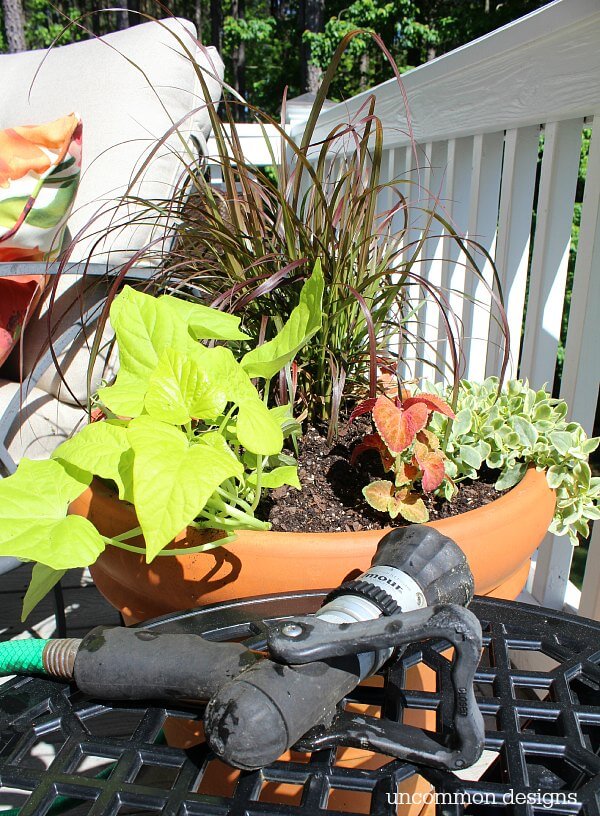 On my porch, I use a hand sprayer and the Miracle-Gro® Liquafeed® Universal Feeder allows me to feed my plants the right amount of nutrients while I water. It automatically mixes the right amount of nutrients to take the guesswork out of feeding. Such a time saver for me. Efficiency is a key to successful gardening and this product allows more time for enjoying the beauty of my garden.
If it waters, now it feeds with Miracle-Gro® LiquaFeed® Universal Feeder. It's a great tool to help you reach your gardening goals by providing the essential nutrients your plants need to thrive all season long.
This is a sponsored conversation written by me on behalf of Miracle-Gro®. The opinions and text are all mine.
The following two tabs change content below.
Hey y'all! I am Trish and the creative voice behind Uncommon Designs. I adore party planning, holiday celebrations, and all things crafty! I am so excited to share my creative adventures with you!
Latest posts by Trish Flake (see all)